7 Secrets to a Happy Marriage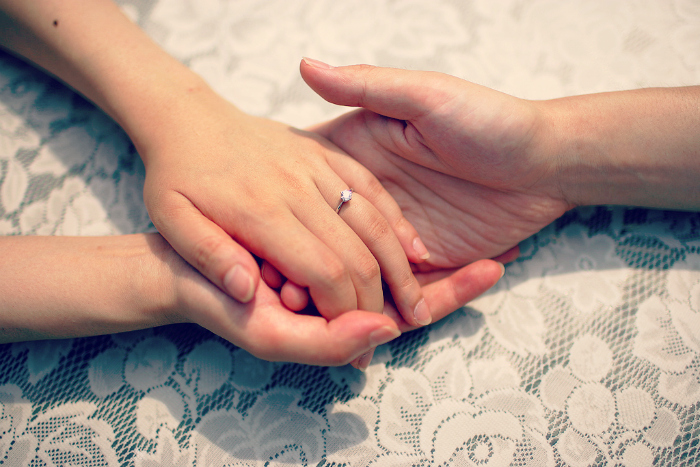 Marriage is beautiful, fun and a lot of hard work!  Well, that's if you want to have a happy, successful and long lasting marriage. Whether you were married in a church, on a beach, at the courthouse or in your backyard everyone wants a successful union! When you see an elderly couple sitting on a park bench, holding hands but saying nothing at all you must wonder how they made it all those years and still have the desire to be next to each other.
I want to sit down and ask them what the secret is to a happy marriage.  I may not have that couple here to ask, but here are some ways to keep that passion burning in your marriage.
1 .Time to miss each other
"The best thing I learned for my marriage was it's okay and good to take time apart. I need a chance to miss him."  — @RobynWR
2. Physical Touch
Research shows that being intimate and having more sex increases your desire and provides emotional and biological benefits.  More intimacy can dampen your anger and lead to a more content marriage. — Recipe for a Happy Marriage
3. Make Yourself Happy
Don't expect your spouse to provide or control your happiness.  Only you can do that!  When you find contentment in yourself and value yourself then true happiness will be hard not to share.  You'll have a joy and peace that strengthens your marriage.
4. Dream Together
My husband and I dream together all the time. I'm not talking those types of dreams that come with a restful night of sleep.  I mean the dreams and goals we have as individuals, a couple and a family. We dream about our future together, our retirement and goals and desires we want to achieve. When we dream together we are planning our future together and putting our marriage at the top of the priority list. Without a strong marriage, our family can't function!
5. Circle of Friends
Surround yourself with friends and family who support your marriage and want nothing but success. Marriage is not a two person cocoon, it's not realistic that we can do it alone. We need the closeness and support of friends and family who have the highest hopes and dreams for marriage.
6. Date Night
Whether you're newly married, buried under a bunch of kids or a seasoned couple it's still important and necessary to date your spouse.  Plan regular date nights and fill up on that excitement and passion you had when you first started dating.  You want more of that "rush" you felt when you first knew he/she was THE ONE!
7. Golden Rule
This should be obvious, but speak and treat your spouse the way you want to be spoken to and treated.  If you can't muster up a nice thing to say, well then it's best just not say it.  Do your best to speak positive to one another. Praise in public and criticize/correct in private.  Your husband doesn't want to feel disrespected and your wife doesn't want to feel unloved.
Photo credit: adapted from Kumon | Flickr
What are some ways you keep your marriage strong and happy?  Share in the comments below!
Join the Discussion:
comments so far. Add yours!