If you are in need of a last minute affordable frightening Halloween decoration, these do it yourself gory bleeding Halloween candles are perfect! Even if you consider yourself craft-disabled, this is so simple, it' would be hard to mess it up. All you need are two standard candles in red and white and it can be made in minutes.
Materials:
White taper candle
Red taper candle
Lighter or matches
Scrap piece of paper or newspaper
Instructions:
Step 1: Cover your work surface with a large scrap piece of paper or newspaper to protect it from dripping wax.
Step 2: Light the red candle and allow the candle to burn for a few minutes. Next hold the red candle next to the white candle, and slightly above so that the wax from the red candles drips down onto the white candle. Make sure to rotate the white candle so that there is red wax drip marks going all the way around.
Step 3: Once there is enough red wax drip marks blow out the red candle and wait 1 to 2 minutes for the red wax on the white candle to fully harden before allowing the white candle to lay flat. If the white candle is already in a candle holder, you can simply leave your new bleeding Halloween candle in the candleholder and light on Halloween to frighten your guests. For an extra frightening gothic look try making several bleeding candles and grouping them together in a candelabra on your dining room or coffee table.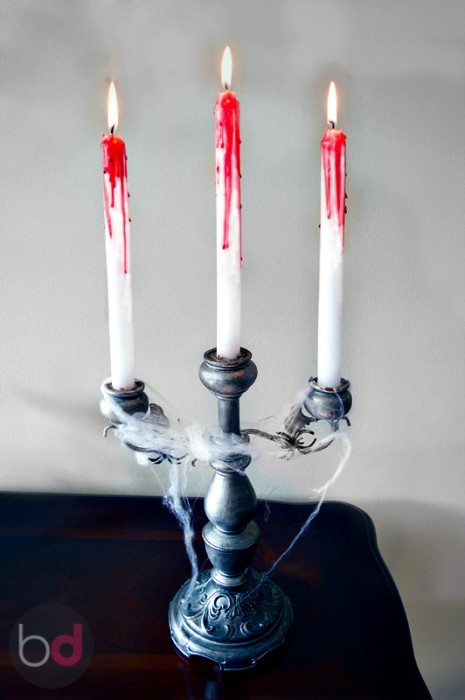 Will you be decorating for Halloween this year? Share your easy-DIY in the comments!
Join the Discussion:
comments so far. Add yours!