How to Have Great Sex While Pregnant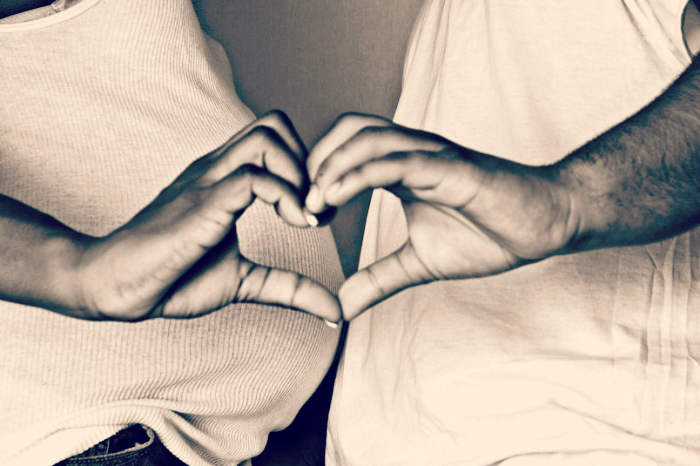 Sex is what got you pregnant in the first place, but being intimate during pregnancy is a whole different ball game. Many couples have legitimate fears when it comes to sex during pregnancy – from how sex will affect the baby or if an orgasm will cause preterm labor. But having great sex during pregnancy can be healthy for your body and your relationship and pregnancy shouldn't stop you from enjoying yourself either.
If you want to ensure you're having great sex during pregnancy, here are 7 tips that will help you keep the heat alive and your love burning for the next nine long months.
Educate yourself.
During pregnancy, many things can seem scary and having sex may be one of them. Educate yourself by talking with your care provider about your worries and get advice on any concerns you may have. If you had sex early on and noticed some spotting or if you're concerned about your baby's health, getting those addressed can keep the anxiety off your mind and help you actually get in the mood.
Learn to love your curves.
So, there's no denying that pregnancy changes your body – even early on. Learning to love your new body and curves can have a real impact on how great sex will be during your pregnancy. If you're feeling self-conscious about your body, it can be hard to let go and enjoy yourself, but pregnancy and your pregnant body are beautiful.
More: 5 Tips For Finding Out If He Is Really Into You
Focus on pleasure.
It's hard not to be hyper-aware of all the ways pregnancy is changing your body, and if you're feeling negative about your new shape, it can have a negative impact on your sex life. If you want to have great sex during pregnancy, focus on the pleasure you're feeling and not that you can't see your toes past your belly.
Find a position that works.
Sex can be its best when you're adventurous and when you're pregnant, finding new positions is necessary, but can also be very fun.
Don't be too serious.
Like all things in life, having a sense of humor can really take you far – and sex during pregnancy is no different. Don't put too much stress on yourself and your desire to get your sexy on because it's just going to get in your way. Instead, find humor in those funny situations – like when your baby kicks your partner's hands off you or when your breasts start to leak.
Keep your expectations in check.
If you're hoping to have your sex life be just as it was before you got pregnant, you're not entirely realistic. Sure, not all things have to change, but there will be times where you're too tired to be intimate. Situations will show that you may not be able to move like you once did thanks to your growing midsection and so on. Keeping your expectations in check and knowing that you're not going to be pregnant forever can help keep you in the right frame of mind.
More: 10 Sexy Songs to Get You in the Mood for Love
Communication is key.
Keep that line of communication open with your partner and it will help you have great sex. Knowing you have a partner who is concerned about your anxieties and fears and excited about the future with you can help you let go and enjoy yourself.
Do you have any tips for enjoying sex when you're pregnant? Share in the comments!
Join the Discussion:
comments so far. Add yours!