I moved into my house over 6 years ago and since the moment this place became a part of my family, I have been wanting to change the super ugly kitchen backsplash. I can't even make it up and have no idea what the previous owners were thinking, but the tile was large squares of dirty orange and off yellow — with black grout. It wasn't even placed correctly and there were spots that had two oranges together instead of a yellow and orange, plus it didn't seem to matter how much I cleaned and scrubbed the kitchen, it never looked clean. And I haaaate that!
I don't want to spend a lot on my kitchen until we can update the whole thing, so I thought I was destined to live with the ugly orange-yellow forever. When I discovered I could do a quick update that won't cost an arm and a leg and can be done in one day, I was all about it. So I tried it and while it's not totally completed yet (I need to put some outlet covers on and well, decorate a bit), I just knew I had to share it with you all.
Why?
You guys — the backsplash is now white! Whaaa? No more ugly orange-yellow and even with a sink full of dishes, it looks cleaner than it ever did before.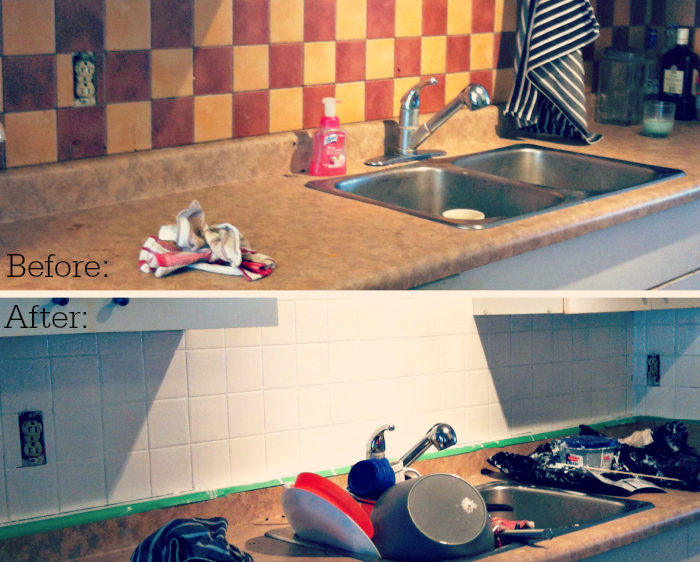 Jealous because I don't have to stare at the ugly and it didn't have to take months to do? Don't worry — just follow the same tutorial I did and you'll be doing the happy dance in your kitchen just like I am.
We used an epoxy-based paint so that it can be durable for a while (we have four kids, they like to mess things up) and the process was so simple. Really, I am kicking myself for not having done it sooner and can't wait to see the whole thing finished!
Photo credits: Devan McGuinness
Join the Discussion:
comments so far. Add yours!