This is a sponsored post for Socialstars sharing some great gluten free snacks with Goldfish Puffs #GoldfishTales
When you have a large family, some days it can feel like you're spending all day preparing snacks and food at the request of the kids. It got so bad last summer that I knew I had to come up with a plan for making the whole snack thing more streamlined because once I got a snack for someone, another child told me they were hungry too (even after I checked if they wanted something earlier!).
So, I decided every Sunday I would spend a few hours putting snacks together that should last the whole week with my four children. The idea behind it is instead of asking for a snack, they could go into their designated snack drawers (one for dry and another for refrigerated treats) and choose what they wanted, when they were hungry.
It was a tremendous success and I found that I had so much more time during the week for other things instead of feeling like I was always making food and snacks for the kids. Not only that, they were able to choose what they wanted to eat and kids love to have choices.
One of the favorites in rotation in our snack cupboard is a gluten-free snack mix, specifically a blend that includes honey-flavored cereal, Barbecue Goldfish® Puffs, and salty pretzels. The Goldfish Puffs provide big, bold flavor and it pairs so well with the sweet honey cereal – it's a favorite for all of the kids. Since they're gluten-free, pairing them with other gluten-free favorites makes this snack (that also is great to eat on its own), the perfect addition to this snack mix.
If your kids are looking for a new treat mix, this is one of my family's favorites!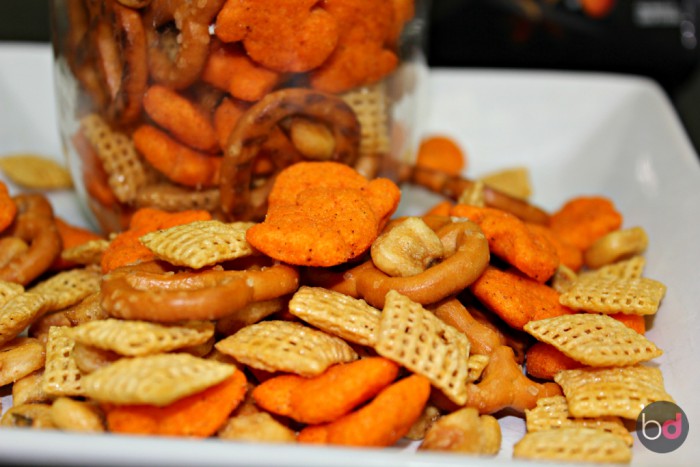 Ingredients:
½ cup Gluten-free pretzels
½ cup Salted roasted corn
1 cup Honey-flavored cereal
Instructions:
In a large bowl, combine all ingredients and mix up. Store in an air-tight container or snack bags for up to two weeks.
Join the Discussion:
comments so far. Add yours!