This is a sponsored post for Socialstars sharing some great gluten free snacks with Goldfish® Puffs #GoldfishTales
It's that time of year where the weather seems to be frustratingly unpredictable. One moment you're outside enjoying a gorgeous summer day, but 10 minutes later we're all running back indoors to hide from the crazy thunderstorm.
It's hard for both kids and parents because they want to be outside getting dirty and playing with their friends and we want a little peace and quiet in the house. It seems the second they're back inside, they're complaining that they're bored and wishing they had something to do.
I don't think there's anything wrong with boredom, in fact, I believe it can be a great thing for kids. But, I like to have a few activities on hand that can engage my kids and keep the peace when we're stuck inside.
For such instances, I rely on our sensory box, educational TV shows, and a few board games that my kids love to play. But, sometimes I like switch them up and I decided to teach them the strategic game of Mancala (we played the most basic version also called 'Kalah') with the help of Sizzlin' Hot Wings Goldfish® Puffs.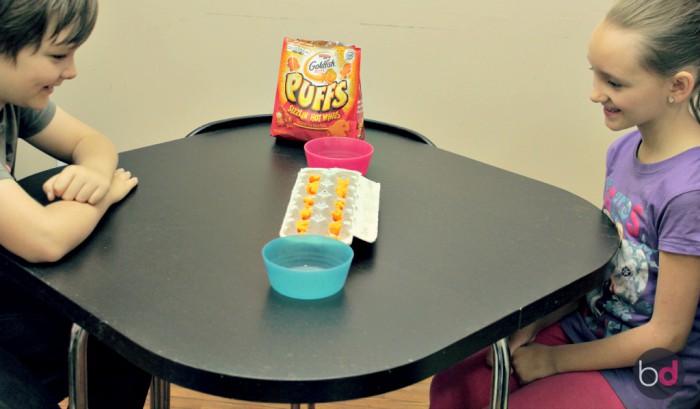 This game is all about strategy and it teaches kids to think ahead – to try to be at least two steps ahead of their opponent. The bonus in our particular version was the kids got to eat all the Goldfish Puffs they had in their bank!
What You Need:
An empty 12-egg carton
Two cereal bowls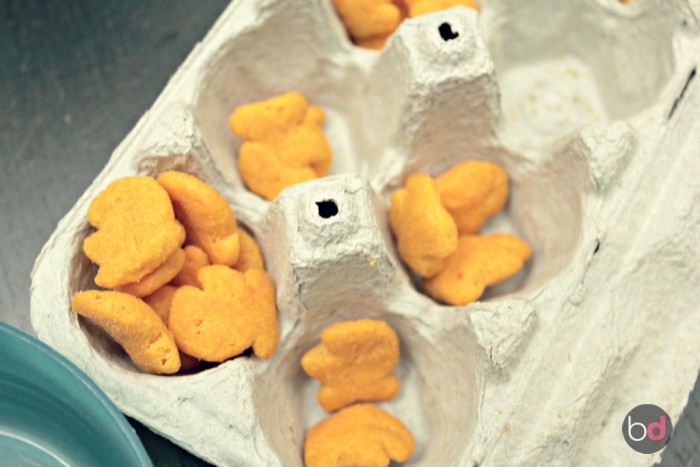 How to Play:
Place 4 Goldfish Puffs into each empty egg hole (called "pits")
Each player has their own "store" (the cereal bowls) to the right placed on the side of the board
Decide who is to go first and that player picks up all the Goldfish Puffs in one of the pits on their side of the board
Moving counter-clockwise, the player drops one Goldfish Puff into each pit until they run out (in this case, there will be four)
If the player's last Goldfish Puff ends up in their bank, they get to go again. If they don't, it's the other player's turn.
You never place a Goldfish Puff into your opponent's bank, so if you have enough to go around, you skip the bank and go to the next pit.
The game ends when one side of the board is empty – and whichever player has the most Goldfish Puffs in their bank, wins!
(Before we played, the kids and  I watched a fun video on YouTube of an older brother playing his sister and explaining how to play)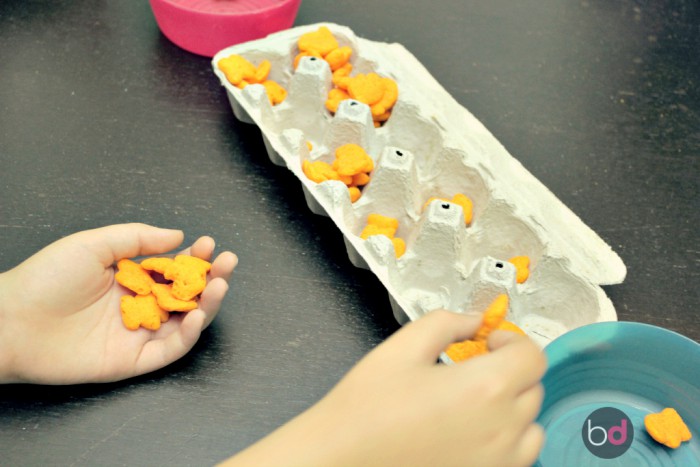 It was so much fun watching the kids develop their own strategies for how to get more Goldfish Puffs into their banks. They started planning their moves to end at the bank and get to go again and they had a lot of fun!
This game ended with purple winning over blue by one Goldfish Puff, but they loved eating the bold-tasting gluten-free snack at the end of their game. And, it was the perfect reward for their great work. The Sizzlin' Hot Wing puffs were perfect for this game and added a fun twist to just using marbles or stones!
If your family is a fan of Goldfish crackers, give the Goldfish Puffs a try and you'll fall in love too. For more information, visit  GoldfishSmiles.com and participate in the Goldfish Tales promotion for your chance to win an awesome trip to the U.S. location of your choosing and create more Goldfish tales!
*No purchase necessary. Sweepstakes ends 7/31/15. Must be resident of 50 US/DC, 18 & older. Void where prohibited. Limit one entry per email address/ day.
Join the Discussion:
comments so far. Add yours!